Health professionals worry about patients who receive false diagnoses and who are pursuing unproven and disproven therapies.
Real infections have been hijacked by a pseudoscientific belief system, so it's difficult to determine what is true and not true.
Advocates for the false "Chronic Lyme" diagnosis know that mainstream science doesn't recognize it, so they will often use other terminology like "persistent Lyme", "late stage Lyme," "Lyme borreliosis complex," "Lyme+", or just Lyme.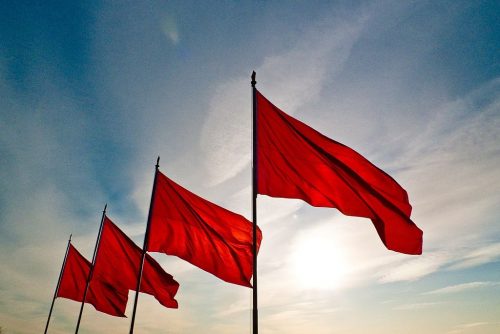 Many stories of false chronic Lyme diagnosis exhibit "red flags", which are listed below. However, just because there is a noticeable red flag, it does does not necessarily mean a diagnosis or treatment is inappropriate.
Quotes from healthcare organizations:
Antibiotics are the only known effective treatment for Lyme disease, but a quick search on the internet will introduce you to other untested remedies that claim to cure Lyme disease or chronic Lyme disease. These products—available online or from some health care providers—may be dangerous, deadly, or simply a waste of money.
— CDC (Alternative treatments)
We sympathize with patients who suffer from the wide array of symptoms that have been attributed by some to be due to so-called "chronic" Lyme disease, but we are concerned that most of these patients have been improperly diagnosed and may be receiving a treatment, i.e., long-term antibiotic therapy, that will do them more harm than good.
— Infectious Diseases Society of America (IDSA Letter to Congress, 2009)
Major red flag: "Chronic Lyme" where real Lyme is rare or non-existent
Chronic Lyme is a social phenomenon spread by word of mouth and the Internet. Thus, chronic Lyme is not restricted to areas where ticks transmit the curable Lyme infection.
With real Lyme disease, 95% of reported US cases are in 14 states, mostly in the Northeast, mid-Atlantic, and Upper Midwest.
Healio's excellent article on the misnomer of chronic Lyme disease features this graphic illustrating the stark difference in geography between confirmed Lyme cases and chronic Lyme support groups: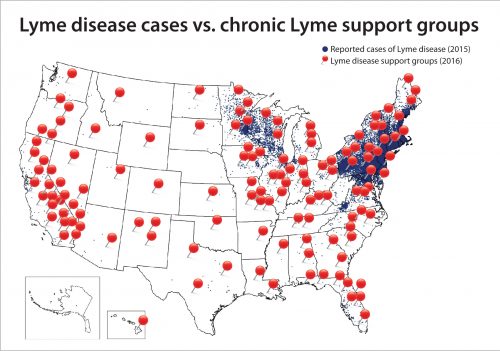 The United States has exported its conspiracy theories about Lyme disease to many countries, including Canada, France, Germany, and Turkey. Thousands of people have received false diagnoses in Australia, where there is no endemic Lyme disease.
Major red flag: Unscientific medical practitioners
Diagnosis Red Flags
Treatment Red Flags
Social and Identity Red Flags
More resources:
Dr. Edzard Ernst: Six signs you are being treated by a quack
Dr. Steven Novella: The Bait and Switch of Unscientific Medicine
Dr. David Weinberg: Anecdotes: Cheaper by the Dozen
Sci-ence.org: Red flags of quackery
The Logic of Science: The hierarchy of evidence: Is the study's design robust?
Dr. Harriet Hall: How to Talk to People About CAM
Hormones Demystified: Top 10 Reasons Why Smart People Are Stupid About Their Health
Janja Lalich, Ph.D. & Michael D. Langone, Ph.D.: Characteristics Associated With Cults
Updated November 7, 2020