Hyperbaric Oxygen (HBOT) is another unnecessary therapy marketed for Lyme disease.
The FDA and Inside Edition have warned the public about cure-all claims made about HBOT. According to the FDA:
HBOT has not, however, been proven to be the kind of universal treatment it has been touted to be on some Internet sites. FDA is concerned that some claims made by treatment centers using HBOT may give consumers a wrong impression that could ultimately endanger their health.
Another statement by the FDA specifically cautions regarding unproven Lyme disease treatment:
If you are considering the use of a HBOT device for yourself or a loved one, be aware that some claims of what it can do are unproven. For example, HBOT devices are not proven to cure cancer, Lyme disease, autism or Alzheimer's disease. The U.S. Food and Drug Administration recommends you check with your health care provider before using a HBOT device to make sure you are pursuing the most appropriate care.
A 2015 review of 30 unproven or disproven therapies advertised for Lyme disease noted "No study of [HBOT] in humans with Lyme disease has ever been published." Why use hyperbaric oxygen when Lyme disease is a treatable infection?
HBOT is not cleared as safe and effective for Lyme disease by the FDA, and HBOT is not approved for Lyme disease by the Undersea and Hyperbaric Medical Society (UHMS).
Johns Hopkins lists a series of side effects that can occur from HBOT inside a hyperbaric chamber. Though most side effects are generally mild, HBOT is not risk-free.
One hyperbaric oxygen peddler was disciplined for the unauthorized practice of medicine.
Sources: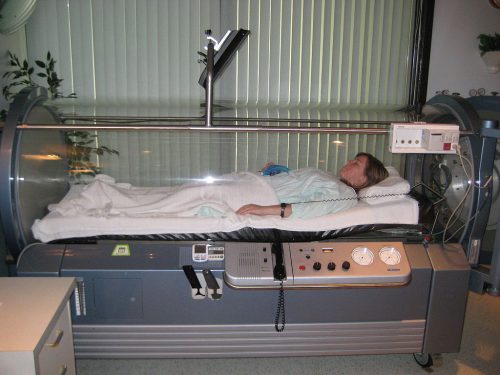 Updated June 13, 2022