Decades of rigorous research has resulted in an overwhelming scientific consensus about Lyme disease diagnosis and treatment.
The scientific consensus was reflected in an exhaustive 2010 review of the 2006 "Lyme Disease, Human Granulocytic Anaplasmosis, and Babesiosis Clinical Practice Guidelines" published by the Infectious Diseases Society of America (IDSA). The review was conducted by an independent scientific panel where an independent ombudsman certified each member as being free from conflicts of interest.
The independent panel unanimously upheld each of the 2006 recommendations after holding an all-day public hearing and considering 1,025 references. Among other things, the panel concluded:
In the case of Lyme disease, inherent risks of long-term antibiotic therapy were not justified by clinical benefit.

To date, there is no convincing biologic evidence for the existence of symptomatic chronic B. burgdorferi infection among patients after receipt of recommended treatment regimens for Lyme disease.
The American Academy of Pediatrics said it more simply:
"Chronic Lyme disease" is not a medical diagnosis.
Since 2010, the scientific consensus has only grown stronger. For example, the Dutch PLEASE trial became the sixth randomized controlled trial showing that Lyme disease patients do not benefit from long term antibiotics.
Those with "chronic Lyme" rarely had real Lyme
The vast majority of people diagnosed with chronic Lyme disease never had Lyme infection in the first place. Therefore, any treatment for presumed Lyme disease would be inappropriate.
Chronic Lyme stories typically exhibit many red flags, such as:
diagnosis via pseudoscience practitioner (e.g. "Lyme literate", functional, integrative, or naturopathic),
non-specific symptoms inconsistent with Lyme disease,
a belief that an infection occurred years earlier,
diagnosis in an area where real Lyme is rare or non-existent,
multiple fake diagnoses, like alternate-universe versions of Bartonella and Babesia that bear no resemblance to the real infections,
testing that is not positive or that uses unproven methodology,
outrageous treatment regimens, and
others listed on our red flags page.
Scientists from the UK emphasize:
The epidemiology of so-called 'chronic Lyme' is more characteristic of a cultural phenomenon than an infectious disease. Public interest in Lyme disease has increased considerably due to 'celebrity' cases and discussion on social media.
False positive Lyme disease diagnoses are very common, as found in a number of studies, including a study of 14 years of visits to an infectious diseases clinic of the Johns Hopkins University School of Medicine.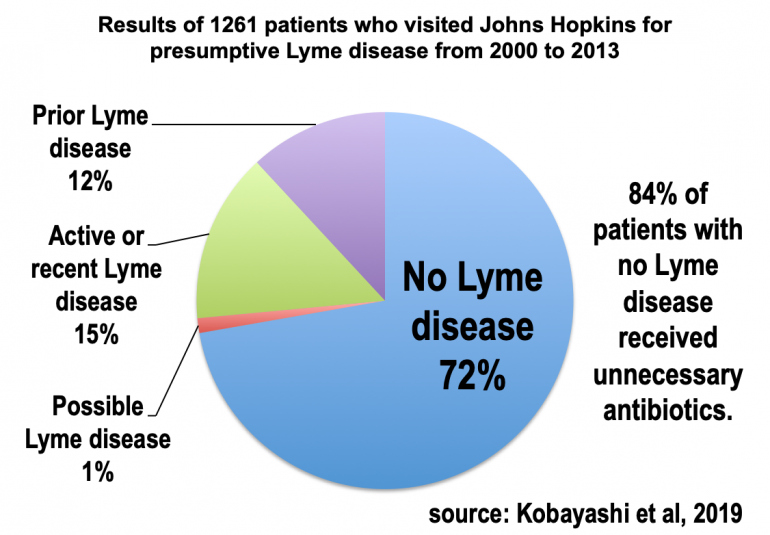 ILADS Guidelines: "Potential harms", "Not evidence-based"
The anti-science group ILADS admits all twelve of its 2014 recommendations are based on "very low-quality evidence".
In 2010, the Healthcare Protection Agency of UK—after noting the vulnerability of patients "desperate for an explanation and possible cure for their illnesses"—issued scathing conclusions about guidelines issued by ILADS:
The ILADS guidelines are not evidence-based and are poorly constructed.
Application of the ILADS guidelines' poorly defined case definitions will result in a very high risk of misdiagnosis.
Use of ILADS guidelines' vague treatment recommendations, including prolonged use of antibiotics, has potentially serious consequences.
Patients misdiagnosed with Lyme disease risk losing opportunities for diagnosis and treatment of other conditions. They also risk serious physical, psychological social and financial adverse events.
Moreover, there is now compelling evidence that the duration of antibiotics can be shorter, in some circumstances, than those recommended by the IDSA in 2006 and 2010. These new recommendations are presented on the CDC web site, in a 2016 JAMA evidence review (pdf mirror), and in the 2019 IDSA Draft Lyme guidelines.
🌍 Experts agree around the world 🌎
Below are medical and science groups that support the scientific consensus about diagnosing and treating Lyme disease:
Studies show scientific consensus
Connecticut, USA study
A 2010 survey of Connecticut primary care physicians found 98% indicated they neither diagnosed nor treated presumed chronic Lyme disease.
British Study
In 2010, Dr. Sue O'Connell, a microbiologist who headed the Health Protection Agency Lyme Borreliosis Unit in the UK, performed a survey of Lyme diagnosis and treatment guidelines from 16 groups of medical experts in Europe and North America. She noted:
There is overall agreement regarding the clinical features of Lyme borreliosis and on the requirement for supporting laboratory evidence of a clinical diagnosis of later-stage infection. Two-tier serological testing, with immunoblot as a second-stage test, is currently recommended in most guidelines and reviews.
and:
No evidence-based European or North American guideline recommends prolonged or multiple courses of antibiotics for persistent symptoms following previously treated Lyme disease.
French Study
In 2018, a French review of European and American Lyme diagnostic guidelines noted "a global consensus." This review concluded:
Contrary to the intense debate taking place on the Internet and in the European and American media, our analysis shows that the great majority of medical scientific guidelines with a high quality score, agree on the clinical diagnostic methods of Lyme disease.
Of the 16 guidelines reviewed in 2018 from 7 countries, only the guidelines of the pseudoscience group German Borreliosis Society (Deutsche Borreliose-Gesellschaft, DBG) were an outlier. DBG's guidelines received the lowest quality score, 1. Similar to its America-based counterpart ILADS but unlike mainstream organizations, DBG recommended non-standard testing and defined a "chronic stage" of Lyme disease.
Presumably ILADS is not in the French review because it does not have any published diagnostic guidelines.
Other good sources
State and province public health departments
Science-based doctors board certified in infectious disease, neurology, rheumatology, psychiatry, dermatology, pediatrics, and Allergy and Immunology
LymeScience resources
Sources to avoid because they deny the scientific consensus
A 2004 study of web sites about Lyme disease revealed many that promoted inaccurate information. Web sites with information determined to be inaccurate tended to have the word "Lyme" in their names and included LymeDisease.org, IgeneX, ILADS, and Lyme Disease Association.
Sadly, the epidemic of misinformation about Lyme disease has only grown since 2004.
In 2017, March for Science had to cut ties with a pseudoscience group that falsely claimed to be representative of Lyme patients.
In 2018, scientists in the Department of Dermatology at Johns Hopkins University reported that sites such as Lymedisease.org are spreading inaccurate information about Bartonella, which is not a tick-borne disease or coinfection of Lyme disease.
We recommend avoiding the following:
International Lyme and Associated Diseases Society (ILADS)  [see the review from the UK's Health Protection Agency]
LymeDisease.org and MyLymeData
Global Lyme Alliance
Bay Area Lyme Foundation (and associated entities Center for Lyme Action, Lyme Disease Biobank, and LaureL STEM foundation)

Lyme Disease Association

IgeneX

NatCapLyme- The National Capital Lyme Disease Association

Stand4Lyme

Lyme Innovation
PA Lyme Resource Network
Lyme Action Network
Colorado Tick-Borne Disease Awareness Association
LivLyme Foundation
Focus on Lyme
Twin Cities Lyme
Central New York Lyme and Tick-Borne Alliance
Ride Out Lyme
Lyme Education Awareness Foundation (LEAF)
Lyme Disease Awareness Foundation
Partnership for Tick-borne Diseases Education and Lymecme.info
Project Lyme and Generation Lyme
The Avril Foundation
Lyme Stats
Lyme Disease Foundation (Not to be confused with the science-based organization American Lyme Disease Foundation)
The Mayday Project
Midcoast Lyme Disease Support & Education
Lyme Society, Inc.
Florida Lyme Disease Association
Lyme Connection
LymeLight Foundation
LymeHope
Children's Lyme Disease Network
Twin Cities Lyme Foundation
Minnesota Lyme Association
Alex Hudson Lyme Foundation
Chai for Lyme
Lyme Treatment Foundation
The Steven & Alexandra Cohen Foundation
Southern Tier Lyme Support
The Lyme Center
MaineLyme
LymeTV
LymeBasics.org, formerly Lyme Disease Association of Southeastern Pennsylvania (LDASEPA)
LymeLilli Foundation
Lyme Association of Greater Kansas City, Inc
Sam's Spoons Foundation
Lyme Disease Challenge
The Mighty
Tick Wise Education

Institute for Functional Medicine

American Academy of Environmental Medicine
American Board of Integrative Holistic Medicine
American Academy of Anti-Aging Medicine (A4M)
Association of American Physicians and Surgeons
CanLyme – Canadian Lyme Disease Foundation
Canadian Lyme Science Alliance (CLSA) and Canadian Lyme Consortium
Association québécoise de la maladie de Lyme (AQML)
Enfance Lyme Québec
Caudwell LymeCo
Lyme Disease UK
Lyme Disease Action UK
Lyme Resource Centre Scotland
Academy of Nutritional Medicine (AONM)
Tick Talk Ireland
Karl McManus Foundation
German Borreliosis Society (Deutsche Borreliose-Gesellschaft)
Chronimed
Fédération Française contre les Maladies Vectorielles à Tiques (FFMVT)
France Lyme
Le droit de guérir
Lyme-Int
NorVect – The Nordic Network for Vector-borne Diseases
Lyme Disease Association of Australia  [There is no compelling evidence you can contract real Lyme disease in Australia.]
MSIDS Inc.
Australian Chronic Infectious and Inflammatory Disease Society (ACIIDS, formerly Australian Chronic Infectious Disease Society, ACIDS)
Tick-borne Illness Community Network Australia Inc (TICNA)
The International Society for Environmentally Acquired Illness (ISEAI)
Charles E. Holman Morgellons Disease Foundation
Any other so-called Lyme patient group (other than this web site and the ALDF)
Videos produced by chronic Lyme conspiracy theorists, such as Under Our Skin
Unscientific medicine practitioners, including those who market themselves using the following terminology: Lyme literate, integrative, functional, alternative, complementary, Traditional Chinese Medicine, holistic, natural, Biological, Ayurvedic, chiropractic, naprapathic, homeopathic, anti-aging, and naturopathic.
Any organization listed by Quackwatch in their list of questionable organizations
Academic centers that receive substantial funding and other support from chronic Lyme advocates, including:

Brian Fallon's Columbia University Lyme and Tick-Borne Diseases Research Center
LymeMIND and The Institute for Next Generation Healthcare at Icahn School of Medicine at Mount Sinai Health System
Ying Zhang's group at Johns Hopkins University
Kim Lewis's group at Northeastern University
Eva Sapi's University of New Haven Lyme Disease Research Group
The Dean Center for Tick Borne Illness
Mount Allison University Lyme Research Network
G. Magnotta Lyme Disease Research Lab at University of Guelph
Neil Spector's group at Duke University

Publications by chronic Lyme advocates or authors funded by them, especially ones published in predatory or low-tier journals like Dove Medical Press, Frontiers, and MDPI.