Unnecessary anxiety
"Chronic Lyme" has become something of a cult that has hijacked real diseases to seem legitimate. Yes, Lyme disease is a disease of real concern, but it is curable. Fortunately, "chronic Lyme disease" does not exist, and deaths associated with real Lyme disease are extremely rare.
We have not found any reported deaths of children associated with Lyme disease.
The phenomenon of "Lyme anxiety" is well documented, with the American Academy of Pediatrics warns:
Misinformation about chronic Lyme disease on the Internet and in popular media has led to publicity and anxiety about Lyme disease that is out of proportion to the actual morbidity that it causes.
Furthermore, it cannot be emphasized enough that the vast majority of people with a "chronic Lyme" diagnosis never had Lyme disease in the first place. A good illustration of this point is the thousands of people who think they have chronic Lyme disease in Australia, where there is no endemic Lyme disease.
Sadly, people with diagnoses like cancer, MS, ALS, and Alzheimer's have been falsely diagnosed with chronic Lyme. Sometimes their deaths are wrongly blamed on Lyme disease.
Lyme Carditis: A rare but serious complication of Lyme disease
Lyme carditis is a serious heart problem that occurs in about 1% of reported Lyme disease cases, according to the CDC. Lyme carditis involves "heart block", which is when electrical signals traveling between parts of the heart are partially or completely blocked.
Heart block can cause the heart to beat in a dangerously irregular manner. When Lyme disease is untreated, the chance of manifesting Lyme carditis increases. Thus, health professionals emphasize the importance of both prevention and being treated as soon as possible.
Fortunately, Lyme carditis typically resolves quickly with antibiotic treatment.
Children were less than half as likely to develop Lyme carditis as the average Lyme patient.
More information: CDC: What you need to know about Lyme carditis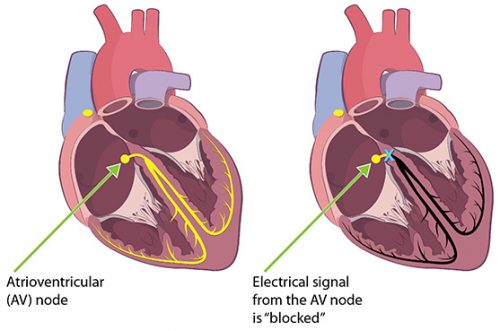 CDC investigates deaths associated with (but not necessarily caused by) Lyme disease
In 2016, CDC scientists reported 5 deaths associated with Lyme carditis. CDC also reported 3 sudden cardiac deaths in 2013. All 8 of these cases tested positive according to CDC-recommended testing criteria. Before 2013, only 4 deaths associated with Lyme carditis were reported between the US and Europe.
A year after their 2013 report, CDC scientists followed up to attempt to determine frequency of Lyme carditis-associated death.
Among 121,894 cases reported during 1995–2013 (120,198 cases with any form of Lyme disease and 1,696 cases with carditis specified), 702 (0.6%) died from all causes within a year of Lyme disease diagnosis. The observed all-cause mortality for these 121,894 patients is below the predicted age-adjusted, all-cause mortality for this population based on national, age-adjusted death rates. Two of these deaths (0.002% of the total) were classified as suspected cases of Lyme carditis–associated mortality after review of available clinical information.
Both of the two suspected cases of Lyme carditis–associated mortality had positive tests for Lyme antibodies.
Review of death certificates
In 2011, CDC scientists released "A Review of Death Certificates Listing Lyme Disease as a Cause of Death in the United States." The scientists looked at death records from 1999 to 2003 in 45 states that listed Lyme disease as at least part of the cause of death.
There were 96,068 cases of Lyme disease reported to the CDC from 1999 to 2003. However, only 23 death records had Lyme disease coded as an underlying cause of death. 91 other records listed Lyme disease as potentially contributing to the fatal outcome.
There was evidence that the 114 records were part of an overreporting of deaths attributed to Lyme disease:
"Only 1 record was consistent with clinical manifestations of Lyme disease."

In the group of 91 records listing Lyme disease as a contributing factor, the underlying causes of death "varied widely and also were inconsistent with the well-characterized complications of Lyme disease."
11 of the 23 death records weren't properly completed and had "an implausible or ill-defined causal sequence of events"
Few of the remaining 12 of 23 death records that were properly completed demonstrated that Lyme disease was a plausible cause of death.
The scientists found "9 certificates (8%) had uncertain terms listed such as 'Lyme disease?,' 'Lyme disease—past history,' or 'possible chronic Lyme disease.'"
The CDC scientists concluded that Lyme disease is a rare cause of death.
Resources