Alan Robert Vinitsky, MD is a doctor in Rockville, Maryland who sells strange tests, diagnoses, and treatments at his clinic "Enlightened Medicine". He has been disciplined by medical boards in Maryland, Pennsylvania, and New York.
Vinitsky has been associated with the pseudoscience groups ILADS and American Academy of Environmental Medicine. He has a quack Miranda warning on his site that should send people running:
The above statements have not been reviewed with the FDA or any other medical organization, and are not intended to imply a documented scientific basis at the present time.
According to his web site, Vinitsky charges new patients $450 per hour and established patients $400 per hour. He also sells a $75 for $100 "deal" and gift certificates on Yelp.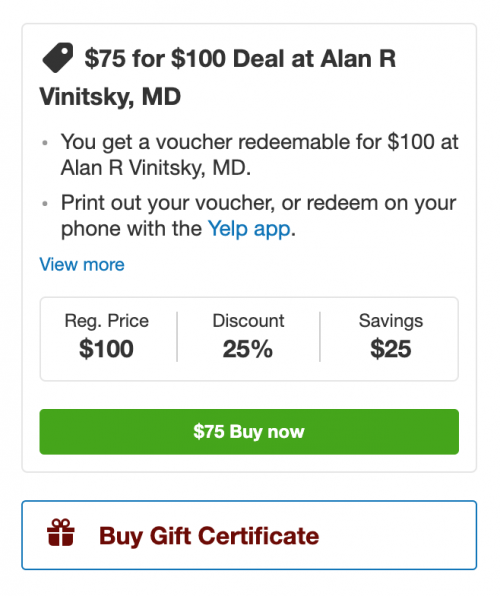 Disciplinary Actions
In 2018, Maryland Board of Physicians reached an agreement with Vinitsky in which he would be disciplined because—with respect to nine patients—he "failed to meet the appropriate standards as determined by appropriate peer review for the delivery of quality medical care", in violation of the Maryland Code.
Incredibly, out of the ten of Vinitsky's cases that were subject to independent peer review, nine failed to meet standards for quality medical care in prescribing Controlled Dangerous Substances (CDS).
The Board said Vinitsky:
---
a. Fails to perform an adequate work-up of the underlying source of the pain prior to prescribing opioids;
b. Incorrectly treats the pain associated with diseases such as migraine headaches, chronic fatigue, and infections (chronic Lyme disease, Bartonellosis, and mold) with opioids instead of using standard treatments for these diseases;
c. Inappropriate manages pain with escalating and frequently high dosing of opioids;
d. Misrepresents the dosing of opioids and other CDS in that he documents a thirty-day supply but frequently renews prescriptions before their refill dates;
e. Inappropriately prescribes benzodiazepine and opioids concomitantly;
f. Fails to document a risk/benefits assesstnent and assess goals for opioid therapy prior to prescribing opioids;
g. Fails to obtain informed consent or document an opioid agreement;
h. Fails to consistently utilize urine drugs screens ("UDS") or perform pill counts to verify compliance or to test for signs of diversion or taking illicit substances, particularly on high risk patients; and
i. Fails to consider the results of UDS for subsequent prescribing.
---
The Board reprimanded Vinitsky and permanently restricted him from prescribing Controlled Dangerous Substances and from issuing written certifications to patients for medical cannabis treatment. He also was placed on probation for a minimum of one year.
In 2019, the New York Office of Professional Misconduct charged Vinitsky with professional misconduct because of the 2018 disciplinary action in Maryland. Vinitsky agreed not to contest the allegations and was disciplined. He was placed on probation for 3 years and had restrictions placed on his ability to prescribe controlled substances.
Also in 2019, the Pennsylvania Board of Medicine placed Vinitsky's Pennsylvania medical license under probation due to the Maryland disciplinary action.
1990s Disciplinary Actions
In 1995, Maryland Board of Physician Quality Assurance found that Vinitsky allowed individuals to perform x-rays and ultrasound who were not authorized do to so in Maryland. The Board concluded that Vinitsky's actions "constituted the practice of medicine with unauthorized persons or aiding unauthorized persons in the practice of medicine," in violation of the Maryland Code.
In the Consent Order agreed by the Board and Vinitsky, Vinitsky received a reprimand and a $10,000 fine.
Because of the action in Maryland, Vinitsky was also disciplined by the Pennsylvania Board of Medicine and New York Office of Professional Misconduct. The Pennsylvania Board placed Vinitsky on probation. The New York OPMC sustained a charge of professional misconduct against Vinitsky and suspended his license to practice medicine.
Resources
Maryland Board of Physician Quality Assurance: Alan R. Vinitsky Discipline, 1995
New York Office of Professional Misconduct: Alan Vinitsky Discipline, 1996
Pennsylvania Board of Medicine: Alan Vinitsky Discipline, 1996
Pennsylvania Board of Medicine: Alan Vinitsky Discipline, 2019
Maryland Board of Physicians: Alan Vinitsky Discipline, 2018
New York Office of Professional Misconduct: Alan Vinitsky Discipline, 2019
Yelp Reviews: Alan Vinitsky